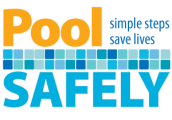 Children's Water Safety Awareness is a Campaign Safety Leader for Pool Safely, a national public education campaign that works with partners around the country to reduce child drownings and entrapments in swimming pools and spas.
To improve pool and spa safety, the U.S. Consumer Product Safety Commission (CPSC) launched Pool Safely: Simple Steps to Save Lives, a national public education campaign to reduce childhood drownings, submersion injuries and entrapments.
The campaign is a call-to-action for consumers and industry to adopt proven water safety steps and join a national conversation about pool and spa safety by sharing best practices and other life-saving information.
Pool Safely carries out the provisions of the Virginia Graeme Baker Pool & Spa Safety Act (P&SS Act), federal legislation mandating new requirements for public pools and spas, including a public information campaign.
For more information, please visit poolsafely.gov 
Children's Water Safety Awareness is aslo a partner with the BLUE BOOT RODEO FOUNDATION for Riley Bourgeois who is also one of our angels after losing his life and gaining his wings in 2019.